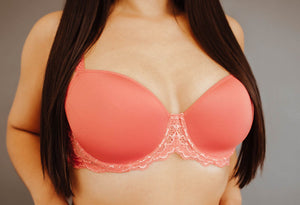 Hey Bella! 
Included in the the Anything but Basic, Basic Bra Fitting:
~A complimentary welcome beverage. If you are over 21, please provide your ID at time of fitting. 
~45 minute (total) time slot to provide everything below! 
~5-point bra fit. This is where you will find out your standard size when searching for bras. Keep in mind all bras fit differently, so this is your starting point. 
~Our fitter (Ann-Marie) will go over which styles would best suit you for your everyday needs, & breast tissue. (10 minutes) 
~A live try-on & shopping experience, so you can leave knowing your bras fit correctly! This will help with your online ordering if the future... or you can book again! 😉 (approx. 20 minutes) 
~A $50 credit towards anything in the showroom. 

**Please note that half of the session fee ($50) is paid for experience and a time slot in our fitters schedule. This is non-refundable. If you reach out within 3 days PRIOR to your appointment to cancel, you will receive $50 back for your bra credit. No shows will not receive any money back.